Shotgun Range Expert Results Summary
Topic starter
31/10/2022 3:33 pm
We have some history collected from expert runs to the shotgun range, this course has been consistent enough for some comparison.
Starting with shooting, we are led by Rob C, who misses 8 (ish) shots a race, and specializes in the second prone effort!  Right on his heels is Maggie, a balanced shooter and the only other HSC racer to average better than 50%!  Ian rounds out the top three, and you can bet that if you give him an opening, he will shoot around you, ask me how I know!
https://photos.google.com/search/_tra_/photo/AF1QipORURXcBKOrGBI7m9jHkWlHRblPNvLowCb2HF1G
Looking at pure speed, no one can catch Neilan, who holds the blazing fast course record of 30 minutes and 32 seconds!  I am just behind him and likely always will be...  Interestingly, the top three finishes this past race were all top 10 efforts.
https://photos.google.com/search/_tra_/photo/AF1QipPc6JhuUZanykQ2Kz_5ESd8sPBwcNMaP8ktzF4d
Look at your progress in the data attached, sorted by member and date.  We are learning race tactics and range protocol every race, watch other racers and learn what works.  There will hopefully be plenty of opportunities to put it to work this winter.
https://photos.google.com/search/_tra_/photo/AF1QipNiRC8AWKHylte3sg8hqO1CbJBxlYadxgQ42JXE
Topic starter
01/11/2022 1:00 pm
Am hoping these will work (noticed links were dead)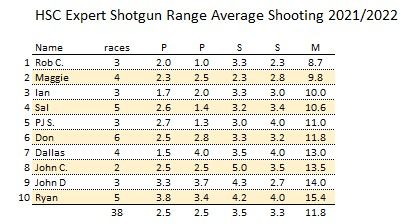 ?width=590&height=590&fit=bounds
?
?width=590&height=590&fit=bounds
This post was modified 11 months ago by
hara-juku